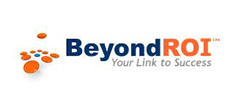 Visit BeyondROI at booth # 811
BeyondROI is a leading provider of performance based digital marketing technology and services. More than one thousand brands, across diverse market sectors, have employed BeyondROI services to more effectively reach their target audience, close more business, and improve customer loyalty.
Search Engine Marketing Services Include:
Beyond Paid Search Management™
Beyond Yahoo! Search Submit Pro™
Beyond Keywords™
Beyond Tracking™
Beyond SEO™
Substantially advance your search marketing results by visiting our website www.BeyondROI.com, emailing info@beyondroi.com, or calling 954.456.5000 for a free no-obligation consultation..
Media and corporate contact: Stacey Wong, 212.791.7000 ext. 229 or swong@beyondroi.com