Core Facts
05/28/2010
ClickZ and the Online Marketing Summit (OMS) today announced they have teamed up to launch an unprecedented nationwide tour of online marketing seminars, SEO workshops, and educational events, under the OMS brand, hosted by ClickZ.com. Beginning June 7, OMS will also be offering the 4,000 marketing professionals in 23 cities across the U.S. and Canada who attend one of these events the opportunity to participate in the Online Marketing Institute's new "Social Media Workshop & Breakfast."
The "2010 Online Marketing Summit 23-City Tour" unites OMS, the only purely educational event of its kind built around content that drives action and delivers insight that online marketers can immediately build into their marketing plans, and ClickZ, the world's largest online resource of interactive marketing news, information, commentary, advice, opinion, research, and reference.
From Boston to Seattle, OMS will bring the latest in online marketing best practices direct to the doorsteps of marketing professionals across the nation. OMS is stopping at every major metropolitan area and many other cities from June 7 to August 17, 2010, attracting marketers from leading companies who will gather to share best practices and learn from expert online practitioners.
With daily posts, tweets and video at each stop, the 23-city tour can be followed at http://www.clickz.com and on Twitter @OMSummit. At each city, leading educators in online marketing will facilitate a world-class forum of best practices in interactive marketing through hands-on classes, thought leadership panels, and educational workshops.
The 2010 OMS Summit includes sessions on:
Social Media Strategies and ROI
Search Engine Optimization and Link Building
Content Marketing is King
Website Conversion and Usability
Adding Value with Video
Behavioral Targeting and Testing
Leveraging Blogs and Forums
Email Marketing and Landing Page Tactics
For more information on the 2010 Online Marketing Summit 23-City Tour, visit www.onlinemarketingsummit.com
Images
Online Marketing Summit ClickZ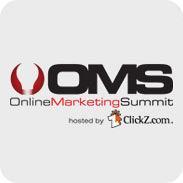 Description:
Logo for OMS and ClickZ
Source:
http://farm5.static.flickr.com/4109/4845786695_33653a60b4_o.jpg
Quotes
Matt McGowan, publisher and head of U.S. for Incisive Media
"Our joint educational and networking road show with OMS is a great opportunity for anyone involved in marketing, social media and search to update their skills in an intense one-day training." .
"So much is new in the marketing arena this year, including the importance of video and the insertion of social media in the form of Twitter and Facebook, and it's all included in these one-day seminars and workshops."
Aaron Kahlow, co-founder of Online Marketing Summit.
"With tighter marketing budgets and corporate travel being reduced--now more than ever--we need to bring online marketing education to marketers in a manner that is affordable, accessible and actionable."
"We're excited to bring this premier online marketing education event to 23 cities across the U.S. and Canada that will include over 400 expert speakers and exclusive training workshops. With countless peer networking opportunities and market-tested practical knowledge, marketing professionals can immediately benefit their organizations."
About
About Incisive Media

Incisive Media is a leading global provider of specialized business news and information, in print, in person and online. Its properties include ClickZ.com, a leader in digital marketing news, information, commentary, advice, opinion and research; Search Engine Strategies, a leading global conference and training series focused on search engine marketing; and Search Engine Watch, which provides news and information about search, analysis of the search engine industry and tools for improving search marketing effectiveness.
Incisive Media's principal markets include financial services, legal services, commercial real estate, marketing services and risk management. Incisive Media's market-leading brands include Accountancy Age, Computing, Investment Week, Legal Week, Post, Risk, and Search Engine Strategies. For more information, visit www.incisivemedia.com.
About the Online Marketing Summit

The Online Marketing Summit is the only education-focused online marketing conference available to marketers. It is unique in that there are no salesmen, no exhibitors/booths and no pitching allowed. In the past four years, OMS has enabled marketers of all levels of expertise to connect with the tools and information required to grow their companies and expand their individual careers. Over 12,000 marketers have learned, collaborated and networked at OMS events.
Media Contact:
Cori Pasinetti
Online Marketing Connect
415.450.9524 x712