Company Profile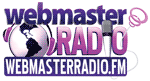 WebmasterRadio.FM: the destination for education and entertainment. WebmasterRadio.FM is a free, Internet-based radio network focused on the B2B e-commerce marketplace. We offer 100% original programming led by industry leaders, including "The Daily SearchCast," hosted by Danny Sullivan; "The Hook," hosted by Katie Kempner of Cripin, Porter and Bogusky; "PowerSource" hosted by Tim Mayer and Jeremy Zawodney of Yahoo Search; "DomainMasters" hosted by Monte Cahn; and "Wizards of Web," hosted by Bryan and Jeffrey Eisenberg.
Each show we air reaches out to a different part of the marketplace, ensuring there is a radio show for all potential listeners. All radio shows are broadcast live and then available in archive, mobilcast, and distributed in podcast format through all of the major podcast portals. WebmasterRadio.FM is proud to boast that we are the official radio network for many of the world's most prestigious conferences.
WebmasterRadio.FM is free to the listening audience based solely on advertiser support. If you are interested in learning more about how to reach a very targeted and captive audience through a fully integrated and interactive advertising campaign, please contact Brandy@WebmasterRadio.FM.
See all sponsors & exhibitors.
SES Magazine
View this issue:
SES Toronto Guide
Who should attend?
Marketing Team:
Marketing Manager/Director
Supervisor
Creative Director
E-Commerce Manager
Brand Manager
Director, Business Analytics
Media Buyer
Media Planner
SEO Specialist/Consultant
PPC Analyst
Junior Account Manager
Associate/Assistant
C-Level:
Chief Marketing Officer (CMO)
Chief Executive Officer/President
Chief Technology Officer (CTO)
Managing Director (MD)
Senior Vice President (SVP)
Vice President (VP)
IT/Web:
Executive Director, IT
Webmaster
Web Developer
Web Designer
IT Project Manager